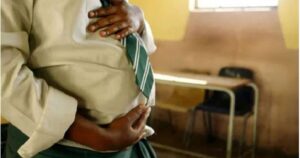 Kakamega General and Referral Hospital in conjunction with the county government of kakamega has launched Young Mothers' Club, which aims to teach pregnant teens and young mothers about family planning and antenatal care.
According to data from the County Government of Kakamega County, at least 40 schoolgirls were impregnated daily in the first half of last year .Statistics released by the County Department of Reproductive Health and Services show that 8,000 cases of teen pregnancies were recorded between January and June, 2020.
According to the report, 960 pregnancy cases were recorded in schoolgirls aged between 10 and 14, while there were 7,040 cases involving teenagers aged between 15 and 18 years. Records show that the county had 17,000 reported cases of teen pregnancies in 2018.
County Coordinator in charge of Reproductive Health and Services Imelda Baraza said the number of teen pregnancies was worrying.
"We expected the numbers to go down this year since children are in school, unlike last year when learners were at home,"