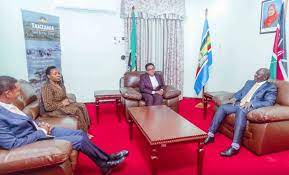 President William Ruto arrived in Tanzania on Sunday evening ahead of  a two-day official visit.President Ruto was accompanied by his wife Rachel Ruto .They were welcomed to Tanzania by the country's Foreign Affairs minister Dr. Stergomena Tax.
Today, the Head of State is going to  pay a visit to his Tanzanian counterpart, Samia Suluhu, at State House in Dar es Salaam, where they are expected to hold bilateral talks. President Ruto will then address the media before having lunch at the Tanzanian State House.
President Ruto has traveled to several countries since his inauguration, including England to attend Queen Elizabeth II's funeral, the United States to attend the United Nations General Assembly, Ethiopia for bilateral talks, and, most recently, Uganda where he attended the country's 60th independence celebrations.
BY ISAIAH WASWA