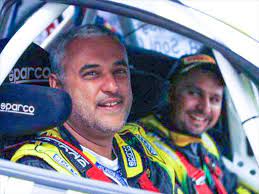 Ravi Soni, Baldev Chager's co-driver, will be one of the top co-drivers competing in the sixth leg of the national auto race. The race will take place on September 2 and 3 in Nanyuki's Ole-Naishu and Greystones neighborhoods. Along with Raaji Singh Bharij, who will operate a Skoda Fabia, Ravi Soni has joined Minti motorsport drivers' ranks. After testing with Raaji Singh Bharij, Ravi Soni has stressed that he has the potential to be among the top drivers in Nanyuki.
The KNRC series for this year has already been set up in Nakuru, Eldoret, and Naivasha.
While veteran driver Carl "Flash" Tundo took first place in the KNRC Safari race, current leader Karan Patel has four victories to his credit. The KNRC Nanyuki Rally will start and finish at Greystones.
Due to concerns about a Russian strike, soccer matches were resumed in Ukraine on Tuesday, in an Olympic stadium that was empty and bomb-barricaded.
In the game, which took place six months after it had been halted, Shakhtar Donetsk and Metalist Kharkiv played to a goalless draw.
President Volodymyr Zelensky suggested the return of the Premier League matches to motivate the citizens of the country. The matches have been replayed one day before the nation celebrates Independence Day.
President Zelensky has warned Russia against carrying out attacks in Ukraine when it celebrates its independence day. On February 23, a day before the second leg of the 2021 and 2022 seasons got underway, Russia started conquering Ukraine.
The dispute surrounding the Ajax winger's move to Old Trafford is still a topic of intense discussion between Manchester United and Anthony's agent. The Brazilian is aiming to leave his current club, Ajax, and join Manchester United. Several of United's offers have already been turned down by Ajax.
In addition, United is anticipated to reject Chelsea's bid for star defender Harry Maguire. The defender who cost United 80 million euros from Leicester three seasons ago was contacted by Chelsea last week for information on his availability
BY: EDWIN.W.MURUNGA