Lawyer Danstan Omari can finally have a short breather, after the high court ordered the Directorate of Criminal Investigation (DCI) from ushering in any investigations against him, in relation to the alleged raid at former Matiangi's home.
 The
high court also issued orders stopping Omari from appearing be
fore the DCI to give information in connection to the Matiang'i c
ase.
Omari wa
s asked to appear before the DCI on Tuesday, February 22, 2023, over his claims that police officers raided Matiangi's home in Karen on Friday night.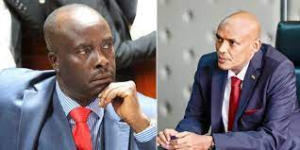 The Law Society Of Kenya (LSK) Nairobi branch on Wednesday condemned the summons issued to Omari, saying that they were meant to intimidate, threaten and prevent Omari from discharging his duties as an advocate and an officer of the court.
"We are outraged and apprehensive about the environment in which Kenyan lawyers have to practice. The Advocate's security is now in question as the body which is meant to work with the lawyers in the dispensation of justice is now everting undue pressure to frustrate the existing Advocate-client relationship between the said Advocate and his client, Dr Fred Matiang'i," said LSK chair.
The LSK Nairobi Branch further demanded that the Government of Kenya with all relevant authorities take appropriate and immediate measures to protect advocates and channel efforts towards access to justice.